Ipega smart Bluetooth gamepad
A controller with a high-definition screen
Through the display of the controller, you can directly view the current usage mode,
real-time power charge and charging display.
At the same time, support Android, IOS and windows system.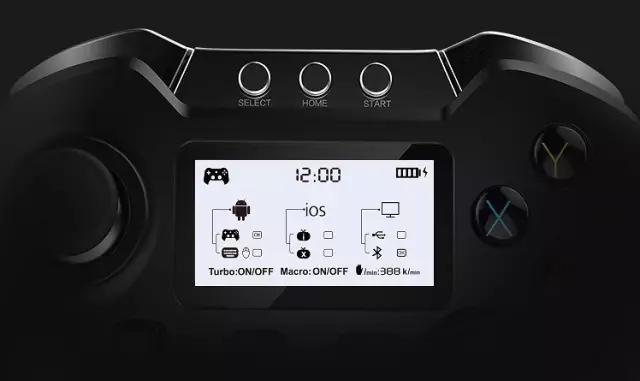 Super long standby time,
full charged can be placed for up to 30 days, continuous game play time up to 30H.
support APP installation of mobile phone.
Download and install APP through mobile phone to use the following functions.
Support Android, IOS system.
Children lock function.
Install APP by phone can set the game time.
More than the game time will automatically disconnected.
Community function, sharing pleasure
Look at the current rankings of the game speed, invite friends to fight,
share the game in the game bar,
Bluetooth 4 speed transmission,
the speed of transmission performance,
each operation can be accurately .
An enhanced asymmetric double motor with a double motor vibration function.
The game experience feedback real vibration on the game,
especially when playing the shooting game,
the tension and excitement can be greatly reduced to the battlefield.
Holzer sensor linear switch, controller adopts the same style of 360 Holzer sensor linear switch.
Limit function, distance can be adjustable
Setting the operation limit function of L2 / R2 keys may result in better game experience.
When the stroke switch is set to |-|-| .The analog value is 60-70
When the stroke switch is set to |-|-|-|-| ,The analog value is 0-100
TUBRO function can accelerate and continuous beating
Whether shooting or fighting games, the acceleration function will make you play more efficiently.
Unique key mapping function
Function keys can be set freely according to different games and personal habits.
The bracket can support 4-6 inch mobile phone, and can adjust the angle freely.
With this handle, your rest day is no longer boring.
No matter whether you are traveling or at home,
this handle is very suitable for you to play.